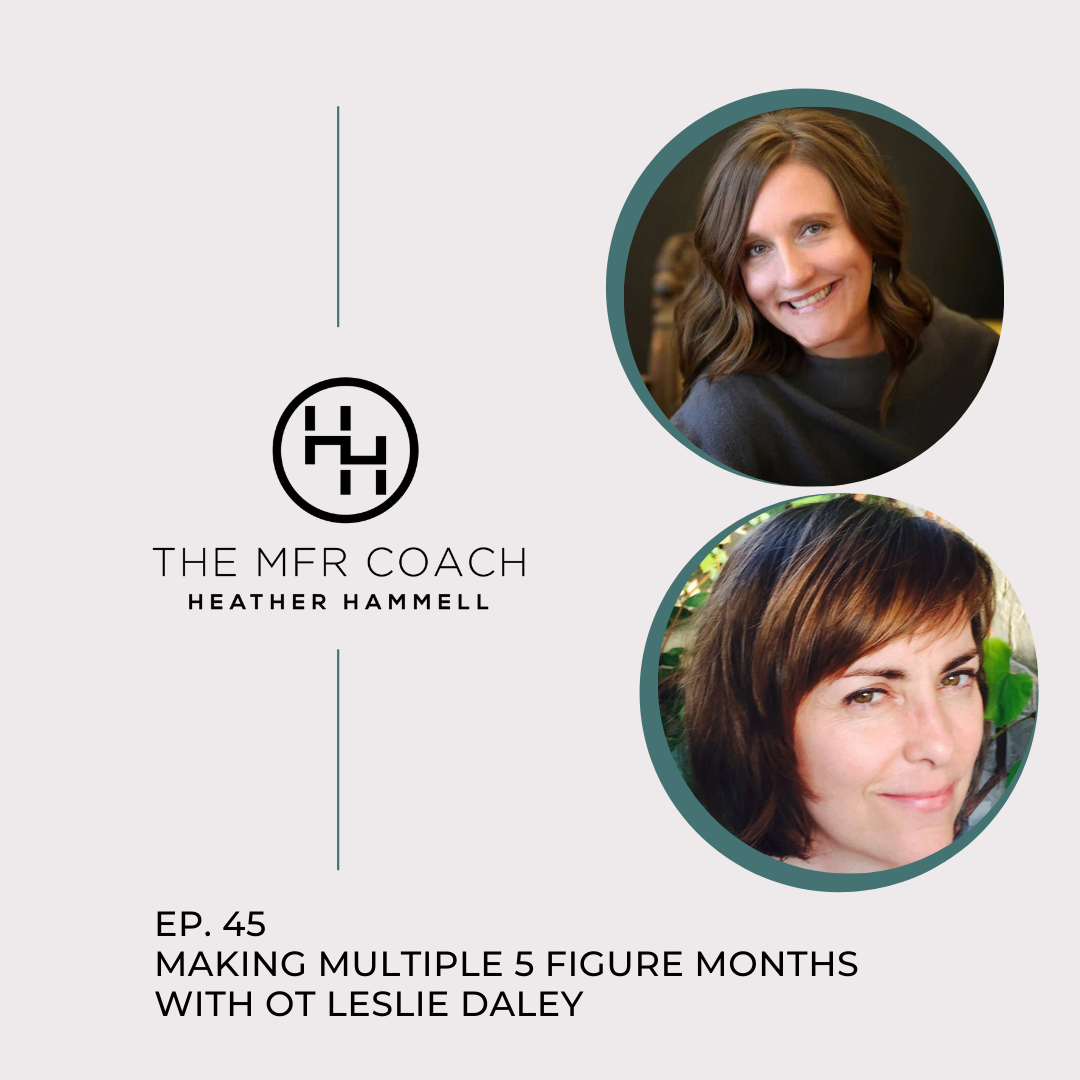 There are a lot of messages on how to start and grow a successful business out there. There are a lot of good tips, a lot of bad ones, and plenty of conflicting ones. So how do you sort through them and decide what you actually need to do in order to launch and grow a business that makes an impact, brings in cash, and doesn't burn you out?
In this episode, I share with you how my private coaching client, Leslie Daley went from having inconsistent income to creating consistent five-figure months in her MFR business!
If you're ready to scale your business to five-figure cash months and beyond, apply to work with me at https://www.themfrcoach.com/ 
GUEST INFO —
Leslie Daley, OT Owner of Integral Myofascial Release in New York City
Website - https://www.integralmfr.com/ 
FEATURED ON THE SHOW —
Get your copy of The MFR Coach's Guide To Having Your Own Myofascial Release Business - https://amzn.to/3EG1xCw
Workbook The MFR Coach's Guide Money Belief - https://drive.google.com/file/d/1raKi8q8ilffoMbcYodY3EWo338T0Sf4i/view?usp=sharing
Group Coaching - Register now For April 2022 - https://view.flodesk.com/pages/61ca6808ed19fa5e614f4daa 
FOLLOW ME —
Facebook - https://www.facebook.com/TheMFRCoach/ 
Instagram - https://www.instagram.com/themfrcoach/ 
Website - https://www.themfrcoach.com/ 
RATE, REVIEW, & SUBSCRIBE ON APPLE PODCASTS –
If you love the content that I am providing, please consider rating and reviewing my show! This helps me support more people — just like you — build a thriving MFR business that they desire. Click here, scroll to the bottom, tap to rate with five stars, and select "Write a Review." Then be sure to let me know what you loved most about the episode! 
Also, if you haven't done so already, please consider subscribing to the podcast. New episodes drop weekly and if you're not subscribed, there's a good chance you'll miss out.