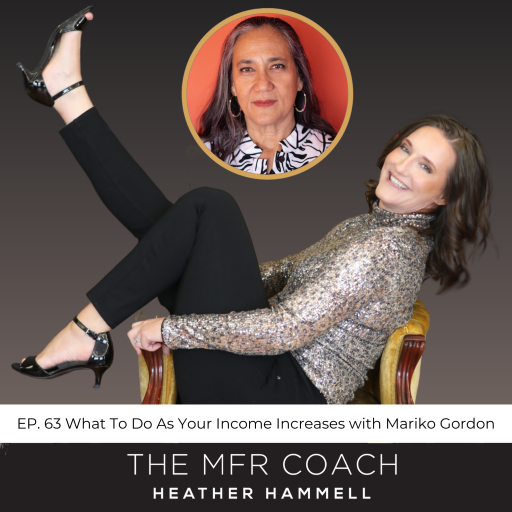 Your MFR business is doing well and you're turning a profit – that's awesome! Now the question is what to do with your increased income.
Well, first you need to address your money thoughts. As I work with MFR therapists who are going from $2,000 and $3,000 months to now $10,000 and $17,000 months, they're noticing that their thoughts about money aren't actually any better. Unless you do something to improve it, the scarcity thoughts and mindset are still the same when you're making more money.
Our guest today, Mariko Gordon is a business mentor and money coach and she will be sharing with us how you can make the shift from a scarcity mindset plus some awesome financial tips to help keep your business sustainable for the long term.
Your gonna want to grab a pen and a notebook for this one. It is filled with gems!  Take a listen.
GUEST INFO  —
Mariko Gordon, Business Mentor & Money Coach
Website - https://marikogordon.com/ 
Facebook -  https://www.facebook.com/mariko.gordon 
Instagram - https://www.instagram.com/marikogordon/ 
Twitter - https://twitter.com/marikogordoncfa
Medium - https://medium.com/@mariko-gordon 
FEATURED ON THE SHOW —
Get your copy of The MFR Coach's Guide To Having Your Own Myofascial Release Business - https://amzn.to/3EG1xCw
Help your clients understand why MFR is for them! Download the FREE Patient Guide - https://bit.ly/3K5Im88 
Learn how to have an awesome business that earns money and allows you the freedom to enjoy your life outside of work. Get on my email list - https://bit.ly/3vZFHrJ 
FOLLOW ME —
Facebook - https://www.facebook.com/TheMFRCoach/ 
Instagram - https://www.instagram.com/themfrcoach/ 
Website - https://www.themfrcoach.com/ 
RATE, REVIEW, & SUBSCRIBE ON APPLE PODCASTS –
If you love the content that I am providing, please consider rating and reviewing my show! This helps me support more people — just like you — build a thriving MFR business that they desire. Click here, scroll to the bottom, tap to rate with five stars, and select "Write a Review." Then be sure to let me know what you loved most about the episode! 
Also, if you haven't done so already, please consider subscribing to the podcast. New episodes drop weekly and if you're not subscribed, there's a good chance you'll miss out.