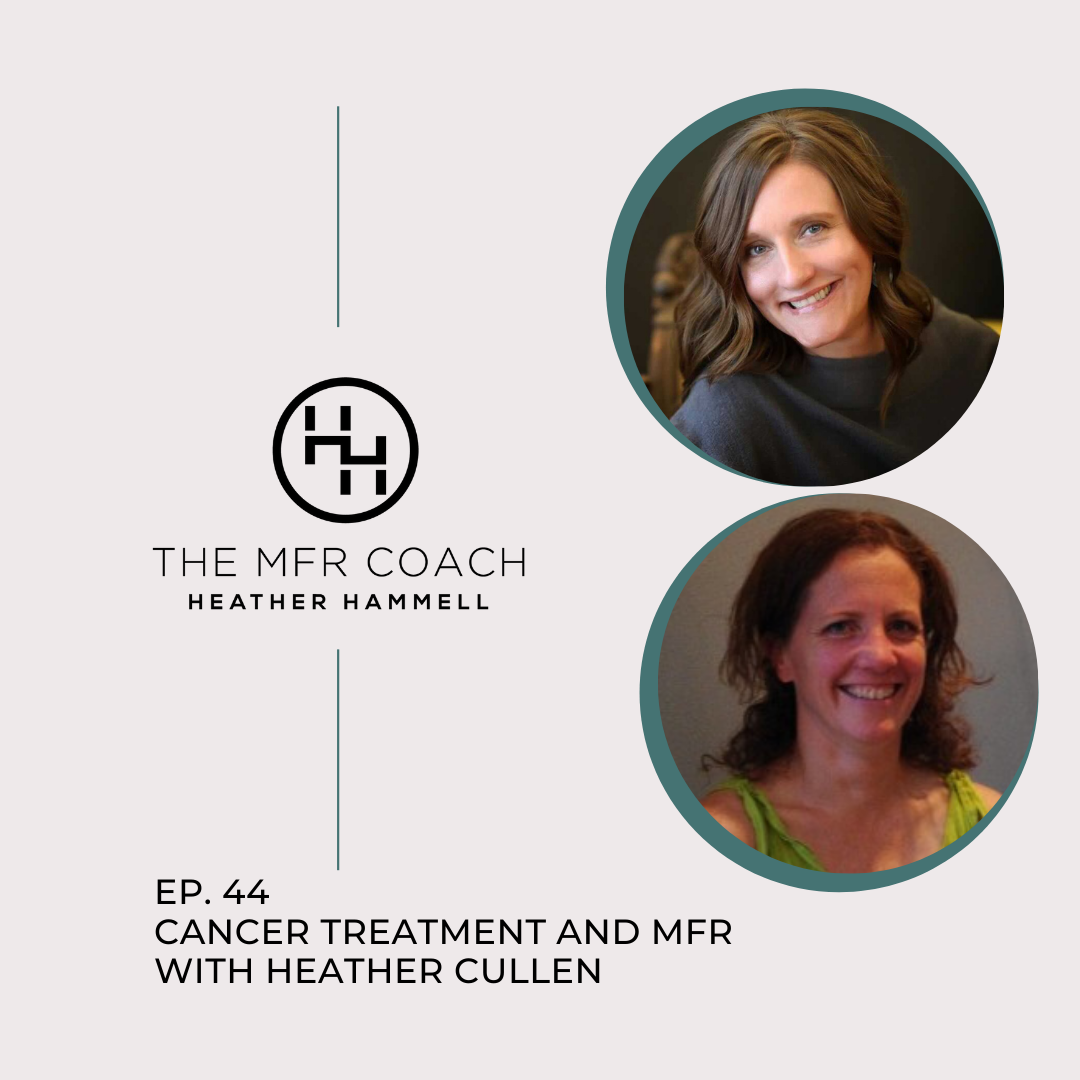 Myofascial release can be a powerful adjunct therapy for cancer, reducing the side effects of traditional therapy and improving quality of life! In fact, MFR practitioners have seen the positive effects of this work in cancer patients for decades. 
Our guest today is Heather Cullen, PT, MFR Therapist and owner of Harmony Physical Therapy. She is also a very good friend of mine and on this episode, we are discussing your husband's experience with cancer and how MFR has played an important role in his treatment.
The potential benefits of MFR should not be ignored. There is no evidence of harm and a growing body of evidence of great therapeutic possibilities. This is an enlightening conversation you don't want to miss. Press play to join the conversation.   
GUEST INFO —
Heather Cullen, PT, MFR Therapist and owner of Harmony Physical Therapy in Bellingham, WA
Go Fund Me - Help Jim Exercise During Treatment, organized by Brian  Cassidy -https://www.gofundme.com/f/help-jim-exercise-during-treatment?utm_campaign=p_cp+share-sheet&utm_medium=copy_link_all&utm_source=customer
Website- https://www.harmonyphysicaltherapy-mfr.com/
MFR Directory - Harmony Physical Therapy | PT | WA -https://www.mfrtherapists.com/app/listings/therapist/?ID=1206
FEATURED ON THE SHOW —
Get your copy of The MFR Coach's Guide To Having Your Own Myofascial Release Business - https://amzn.to/3EG1xCw 
Workbook The MFR Coach's Guide Money Belief - https://bit.ly/3t6rNUT 
Group Coaching - Register now For April 2022 - https://bit.ly/3mQzIS6 
FOLLOW ME —
Facebook - https://www.facebook.com/TheMFRCoach/ 
Instagram - https://www.instagram.com/themfrcoach/ 
Website - https://www.themfrcoach.com/ 
RATE, REVIEW, & SUBSCRIBE ON APPLE PODCASTS –
If you love the content that I am providing, please consider rating and reviewing my show! This helps me support more people — just like you — build a thriving MFR business that they desire. Click here, scroll to the bottom, tap to rate with five stars, and select "Write a Review." Then be sure to let me know what you loved most about the episode! 
Also, if you haven't done so already, please consider subscribing to the podcast. New episodes drop weekly and if you're not subscribed, there's a good chance you'll miss out.