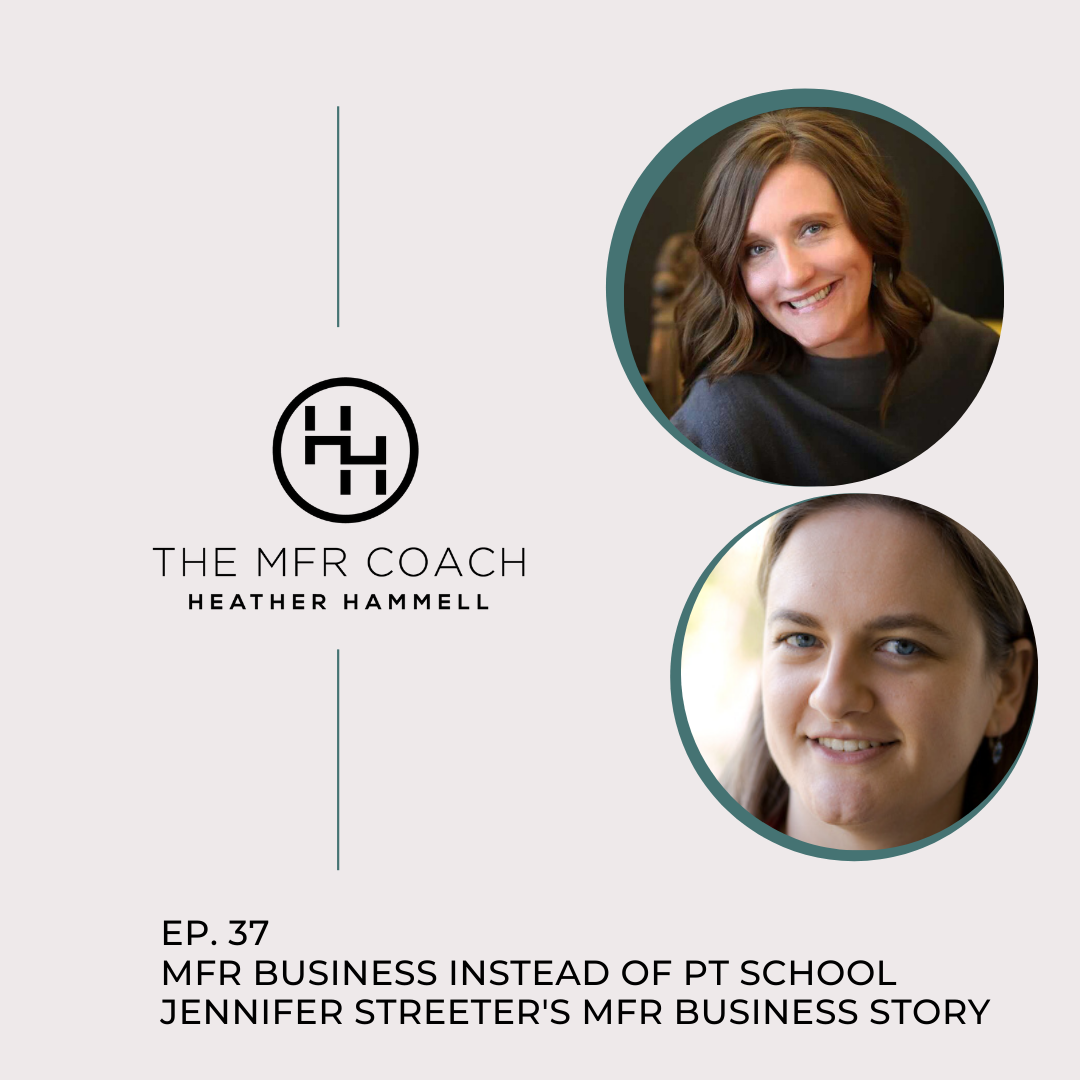 Our guest today is Jennifer Streeter, Owner of Restoration Harmony Myofascial Release in North Carolina. Jennifer has such an interesting story of her transition from massage therapy to deciding not to go to physical therapy (PT) school and making the decision to go all-in on her Myofascial Release Business. 
Fueled by the desire to increase her income so that she can one day retire while still enjoying her many hobbies, Jennifer knew she needed to change her profession from massage therapy in order to make enough money to feel safe and retire with peace of mind. Her initial plan was to go to PT school. She was registered and ready to start but instead, she decided to start an MFR business. A decision that led her to coach with me. As a result, Jennifer is now a successful MFR Therapist who is fully booked, and creating the kind of money that she knows she can live on, and create a retirement because she's gonna do it on purpose. 
And as a bonus, she saved herself thousands of dollars in tuition, three years of school, and now for those three years, she will be creating more money than ever by helping more people enjoy pain-free lives with MFR therapy.
Press play to hear Jennifer's story and be inspired.
GUEST INFO —
Jennifer Streeter, Owner of Restoration Harmony Myofascial Release
Instagram - www.instagram.com/restoringharmonymfr
Website - www.restoringharmonymfr.com
Facebook - www.facebook.com/restoringharmonymfr
FEATURED ON THE SHOW —
Get your copy of The MFR Coach's Guide To Having Your Own Myofascial Release Business 
Workbook The MFR Coach's Guide Money Belief 
Group Coaching - Join the Wait List For January 2022
FOLLOW ME —
RATE, REVIEW, & SUBSCRIBE ON APPLE PODCASTS –
If you love the content that I am providing, please consider rating and reviewing my show! This helps me support more people — just like you — build a thriving MFR business that they desire. Click here, scroll to the bottom, tap to rate with five stars, and select "Write a Review." Then be sure to let me know what you loved most about the episode! 
Also, if you haven't done so already, please consider subscribing to the podcast. New episodes drop weekly and if you're not subscribed, there's a good chance you'll miss out.