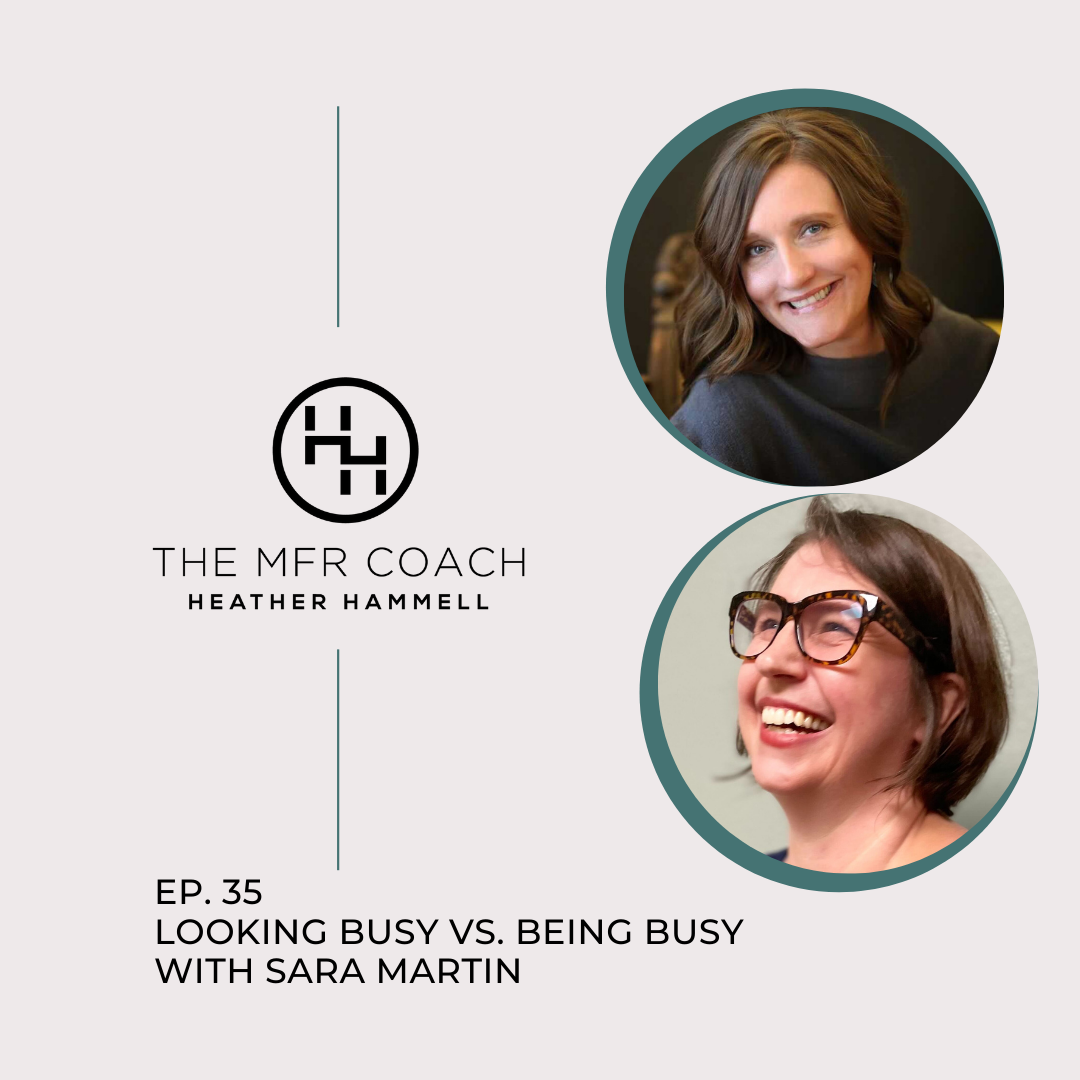 There is a huge difference between looking busy and being actually busy (with clients, with our lives). We often do busy work or tell ourselves and others we are busy to avoid feeling like a failure or to feel like our business growth is more in our own control when we are feeling out of control of it. We spend time worrying and running ads and feeling graspiness towards the clients we have. But when we stop trying to be busy and focus our attention on our own self-concept and our own beliefs about ourselves, we actually create the space and expansion that creates clients and a full treatment schedule.
Our guest today is Sara Martin. After starting her business In March 2021 Sara struggled to become fully booked. Now she is booked and well on her way to meeting her monthly income goal of $8K on her way to creating 10k months doing MFR only. All of this is possible because she took some time to look at her belief in herself as a therapist, her ability to serve her clients, and the results she could provide for them. She grew her confidence and the results have been amazing.
There is a lot of valuable information being shared in the episode that you can implement to move your MFR business forward. Listen in to join the conversation.
GUEST INFO —
Sara Martin, Owner of FireRainbow Myofascial Release
Instagram - https://www.instagram.com/firerainbowmfr/ 
Website - www.firerainbowmfr.com
Facebook - https://www.facebook.com/firerainbowmfr 
FEATURED ON THE SHOW —
Get your copy of The MFR Coach's Guide To Having Your Own Myofascial Release Business 
Workbook The MFR Coach's Guide Money Belief 
Join the Wait List For January Group 2022
FOLLOW ME —
RATE, REVIEW, & SUBSCRIBE ON APPLE PODCASTS –
If you love the content that I am providing, please consider rating and reviewing my show! This helps me support more people — just like you — build a thriving MFR business that they desire. Click here, scroll to the bottom, tap to rate with five stars, and select "Write a Review." Then be sure to let me know what you loved most about the episode! 
Also, if you haven't done so already, please consider subscribing to the podcast. New episodes drop weekly and if you're not subscribed, there's a good chance you'll miss out.