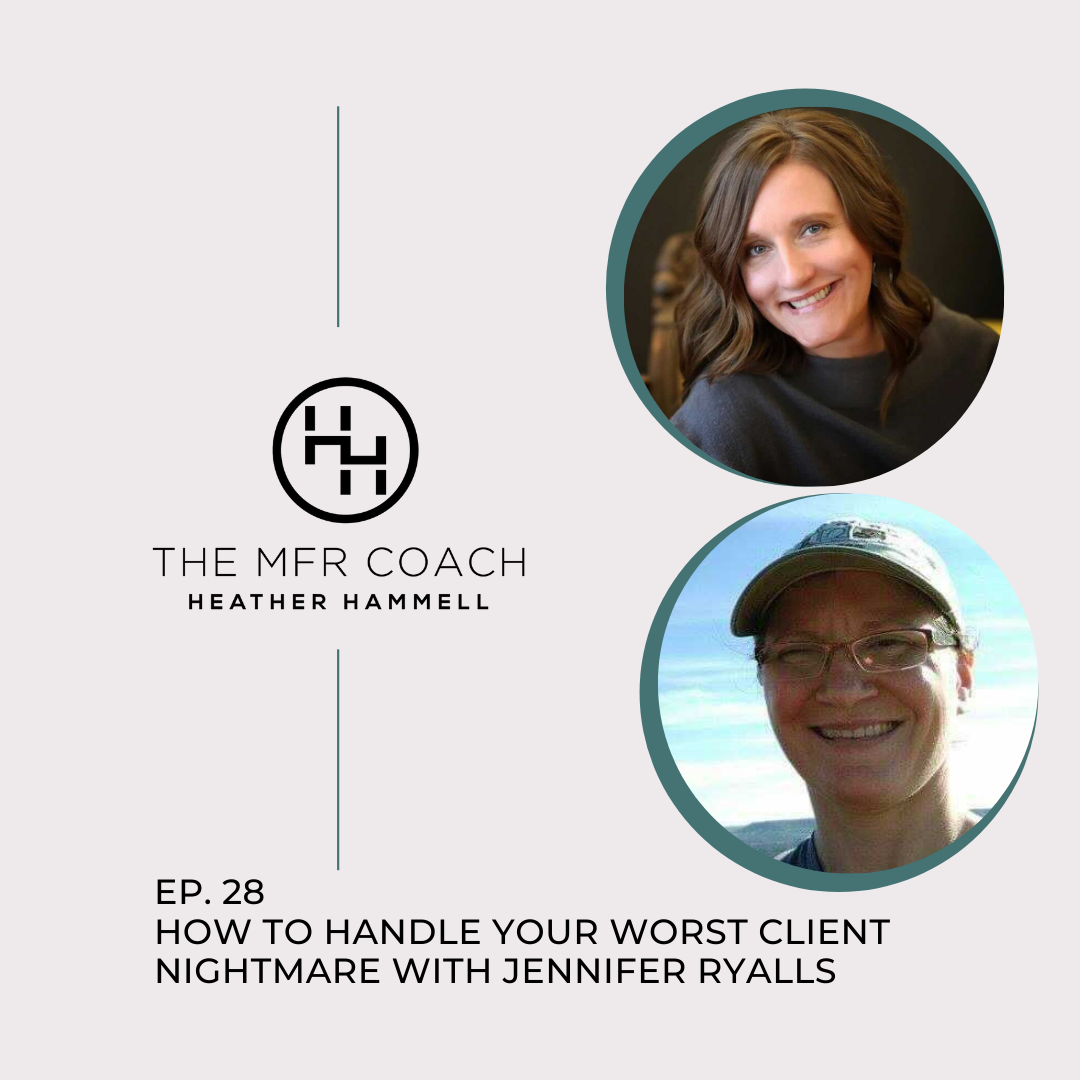 Have you ever had an encounter with a client that left you feeling incompetent and rethinking your entire decision to be an MFR Therapist or a business owner? This happens to all of us and our guest today Jennifer Ryalls is no different. 
Responding the wrong way can derail the client's progress and yours as well. We don't want the client giving up on the best treatment option that they have available to them and you don't want to have a mini anxiety attack each time you need to treat a client. There are ways to use uncomfortable interactions to pivot your practice for your benefit and your client. 
In today's episode, Jennifer and I will discuss her experience and how she copes with challenging clients using techniques she learned from our one-on-one private coaching sessions. You're in for a treat so press play to learn more now!  
If you are interested in experiencing the benefits of coaching that Jennifer talks about, I invite you to book a What Is Possible Call on my website, www.themfrcoach.com.  On that call, we will discuss where you are in your business, where you want to be, and how I can help you best. 
GUEST INFO —
Jennifer Ryalls, PTA, LMT - Owner and Founder at Fascial Connection in Chandler, AZ
Website - Massagebook.com/biz/fascialconnection
Facebook - https://www.facebook.com/fascialconnectionaz
Instagram - https://www.instagram.com/fascialconnection/
FEATURED ON THE SHOW —
Get your copy of The MFR Coach's Guide To Having Your Own Myofascial Release Business 
Workbook The MFR Coach's Guide Money Belief 
FOLLOW ME —
RATE, REVIEW, & SUBSCRIBE ON APPLE PODCASTS –
If you love the content that I am providing, please consider rating and reviewing my show! This helps me support more people — just like you — build a thriving MFR business that they desire. Click here, scroll to the bottom, tap to rate with five stars, and select "Write a Review." Then be sure to let me know what you loved most about the episode! 
Also, if you haven't done so already, please consider subscribing to the podcast. New episodes drop weekly and if you're not subscribed, there's a good chance you'll miss out.